Tuff-N-Uff: Back2Back Battles
---
Tuff-N-Uff: Back2Back Battles - Mixed Martial Arts (MMA) Event on August 22, 2009 in Las Vegas, Nevada USA
For those unable to attend this event, it will be streamed live on IBNSports.com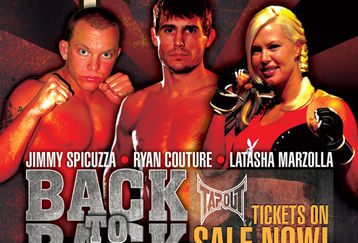 Up-and-coming MMA Star, Ryan Couture, son of "The Natural" Randy Couture, will be featured when Tuff-N-Uff, the Nation's Premiere Amateur Mixed Martial Arts Organization, returns to the ring with "The Future Stars of MMA". The event is set to go down at The Orleans Hotel & Casino in Las Vegas, NV on Saturday, August 22 at 7 PM.
Like Father, like Son - Ryan Couture looks to be a natural himself at the sport his hall-of-fame father has dominated for more than a decade. Couture was triumphant in his last fight for Tuff-N-Uff, defeating Art Martinez by rear naked choke in the second round.
Couture will face a scrappy opponent in this fight when he takes on Jimmy Spicuzza. Spicuzza (3-1) has finished all three of his wins by way of KO or submission. Spicuzza has been calling for this high-profile fight and both will look to end this scrap early when they rumble in the ring.
Spicing up the fight card will be the return of PLAYBOY'S former Playmate of the Year 2004, LaTasha Marzolla. LaTasha boasts much more then beauty though. What started out as Muay Thai lessons to stay fit led to this vicious vixen racking up a Muay-Thai record of 9-3.
Marzolla made her MMA debut in May of this year, defeating Christy Tada by corner stoppage at the end of round 1 under the Tuff-N-Uff banner. She was supposed to be fighting on the promotions July fight card, but her broken nose sustained in her last fight did not heal in time.
In a 135lb title defense, a rubber match meets the road as Jimmy Jones (Xtreme Couture) defends his bantamweight belt against the all-too-familiar Chris Brady (Legends). Brady will look to settle the score, and get his belt back, which he lost to Jones via triangle choke in their second battle. The fireworks between these two will surely ignite the crowd.
All told, Tuff-N-Uff is featuring over twenty action-packed fights, including 2 female bouts. Many of the top gyms across the country will have their protégés compete including: Xtreme Couture, Striking Unlimited, Warrior Training, Cobra Kai, and more.
Tickets for this sure-to-entertain event are currently on sale and affordably priced - starting at only $25. To purchase tickets, please call The Orleans Hotel & Casino box office at 702-365-7075 or visit their website at www.orleanscasino.com. Doors open at 6:00 p.m. with the first bout set to begin at 7:00 p.m.