Member Since:
1/2/12
Posts:
1857
Hey guys,
Was feeling at a loose end today so I asked my editor to throw some click bait titles at me. This was the first one he came up with so I wrote it!
Just a bit of fun, not to be taken too seriously. I think the whole GOAT thing is silly to begin with ;P
Hope you don't mind clicking the link and as always all feedback is welcomed!
Cheers,
Jack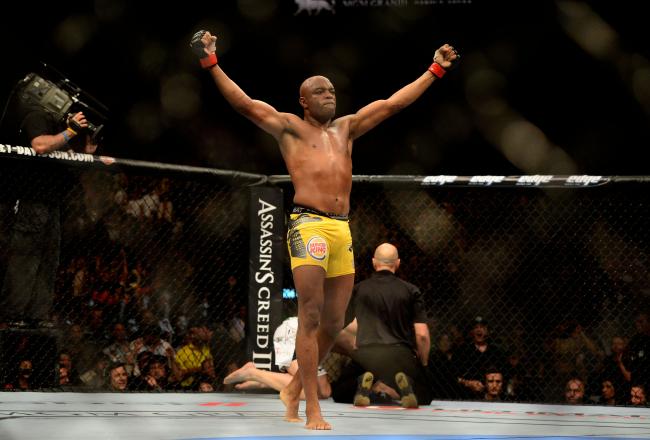 The greatest of all time.
You've heard it before—fight fans love to throw the term around. If you came here hoping for a definitive answer one way or another, I'm afraid you will be disappointed.
What we are going to do here instead is compare and contrast Anderson Silvaand Fedor Emelianenko: their styles, opponents and legacies to the sport.
The Development of Style
The subject of styles could be dealt with by saying: "Silva was a striker who could do it all, while Emelianenko was a grappler who learned to strike, but they were really both mixed martial artists."
Many would write that, and a few readers might even be satisfied with that half-arsed deflection from any actual analysis.
It's not that simple, it will never be that simple, and with real top-tier guys—who evolved to stay at the top of the pile for so long—it is far more complicated.
Silva in 2000 was nothing like the Silva of 2006, and the Silva of 2006 wasn't the Silva who got in the Octagon with Chris Weidman. You can decide whether you want to call it growth and decline or continuous evolution, but the guy who letDaiju Takase in on his hips was not the same guy who shrugged off Chael Sonnenin their second bout.
Plodding forward is not a style that ever suited Silva.
Silva looked like other fighter from Chute Boxe when he started out, plodding forward with his hands ready to swing. He would go forward with strikes and hope to slam his hips down on top of his opponent's takedown attempts.
You know this style—it was what made Wanderlei Silva and Mirko "Cro Cop"Filipovic great.
When you look at Silva's pre-UFC fights—when he was something of a hit-and-miss performer—it is clear that coming forward and sprawling didn't work for him. This could have something to do with him not being as stocky as Wanderleiand Cro Cop or not being as physically strong as them. But whatever the case, his inability to stop a takedown while he was on offence turned Silva into the fighter he is today.
He is largely responsible for popularizing counterstriking in mixed martial arts, and that wouldn't have happened if he had had a decent degree of success with the go-to method of the day early in his career.
What we began to see in his UFC tenure was a fighter who didn't like to attack opponents and risk takedown attempts but instead wanted to draw them in.
Emelianenko, for his part, was always known as a judoka with heavy hands. In his early performances through RINGS, though, he was all about takedowns and submissions. His stand-up was not nearly as developed as it would become (but also not as sloppy as it became in the end). Not only that, his grappling was rough in places too.
He was brilliant on offence with brutal kimuras, armbars and chokes, but when he was put on his back, he tended to hold a guillotine for far too long or attempt an Americana from the underside of mount. That's just strange stuff that few great grapplers do.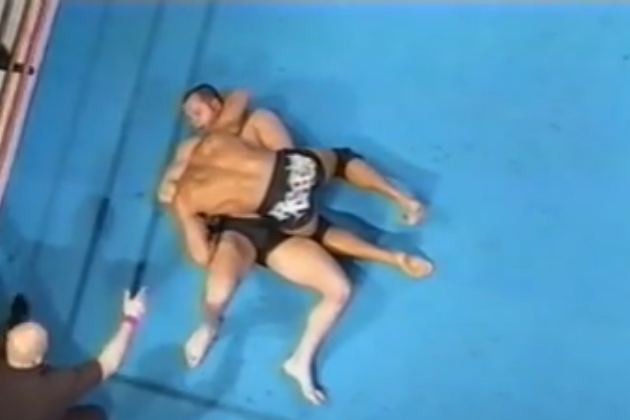 This was most of the fight. Seriously.
Of course, it's possible to finish a guillotine from the bottom of side control, but you don't want to waste energy on it and risk getting a kimura slapped on your arm once it's tired. Yet against Ricardo Arona, a takedown machine,Emelianenko held on for dear life to guillotines over and over in a match that most viewers feel he should have lost.
Coming of Age
http://s3.amazonaws.com/br-cdn/temp_images/2014/01/03/Wys1vEi.gif
The drawing in and footwork that we are now so used to seeing came from Silva.
Every fighter has a point in his career that could be considered a coming-out party.
For Silva, it was when he starched the granite-jawed and then highly ranked Chris Leben in his UFC debut. The Brazilian earned an immediate shot at Rich Franklin's middleweight crown and showed a completely different Silva once again.
Where he had been fleet-footed and danced before, against Franklin he looked to block or parry blows, move in and slap on his double-collar tie. From here, he demolished Franklin with knee strikes.
After that, we saw Silva's ground game tested against "the Michael Jordan of Jiu-Jitsu" (but not really) Travis Lutter. After that fight, we saw a well-rounded Silva show a similar game in every bout. He sat back and countered.
Continues at: http://bleacherreport.com/articles/1909904-fedor-emelianenko-vs-anderson-silva-who-is-the-goat