Member Since:
1/2/12
Posts:
1680
Hey guys,
Concluding part of my little career retrospective on Anderson Silva. Got a second piece coming today on Demetrious Johnson so keep a look out for that! =)
Hope you don't mind clicking the link and as always all feedback is welcomed!
Cheers,
Jack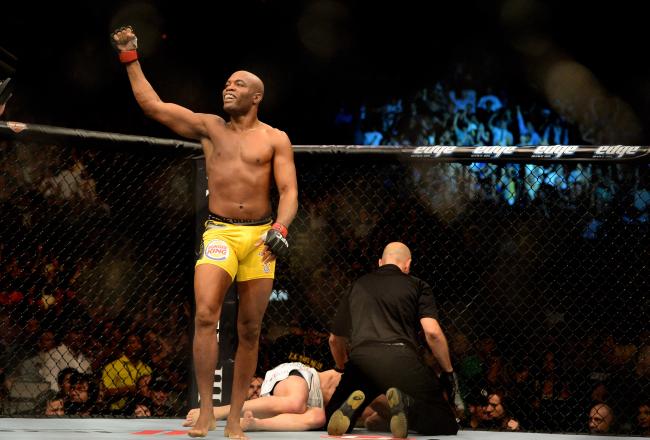 Previously, I published the first piece in this two-part series, examining the fights which made Anderson Silva into the fighter that he is. In Part 1, we talked about Silva's transformation from flatfooted sprawl-and-brawler into dancingcounterpuncher.
In this installment, we will look at Silva's greatest moments in the UFC along with some of his craftiest.
Rich Franklin I and II
Against Rich Franklin, Silva showed his greatest trait—a willingness to adapt to the fight. Rather than come out and move, as he had against Chris Leben and had been moving toward doing in most of his fights at this point, Silva came out flatfooted with his hands high and ready to parry Franklin's awkward strikes.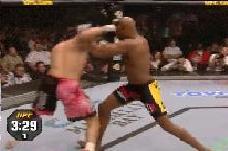 Silva moves inside Franklin's swings to take a double-collar tie.
Silva didn't dance away or side step as Franklin attacked—rather, he covered up or parried and reached directly for a collar tie on Franklin's head. When he succeeded in getting his double-collar tie, Silva introduced to the American mainstream what Wanderlei Silva had given the hardcore fans a taste for several years earlier: the beauty of knees to the face from the double-collar tie.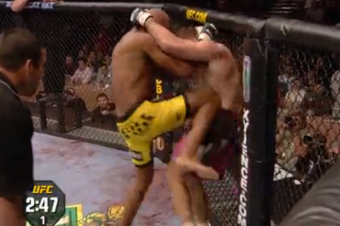 Silva snaps his knee cap into Franklin's rib.
Like the rest of Silva's game, his clinch benefited from going in a different direction than his ChuteBoxe teammates. Where Wanderleior Mauricio "Shogun" Rua would grab an opponent's head and yank on it until it was sore, throwing themselves off balance with jumping knees to try and cause some damage, Silva would throw low kicks and body punches from his clinch and use trips to off-balance Franklin.
Silva's knee strikes to the ribs were also some of the finest I have seen in MMA.
The abruptness and decisiveness of Silva's dethroning of Franklin—a champion with two successful and routine defenses at the time of their bout—captivated the public. Although Franklin was given a rematch, he lost in an almost identical manner.
It was interesting to see Silva fight to a game plan so perfectly suited, as it turned out, for his opponent—and even more exciting to see the kind of combinations that Silva, traditionally a counterpuncher, could put together on offense.
Patrick Cote
Continues at: http://bleacherreport.com/articles/1695502-becoming-the-spider-fights-which-made-anderson-silva-part-2