Member Since:
1/2/12
Posts:
1534
Hey guys,
UFC 159 is coming up but there's not much to say about the main event - it's a gimme plain and simple. So today I'm looking at Cheick Kongo!
Hope you don't mind clicking the link and as always all feedback is welcomed!
Cheers,
Jack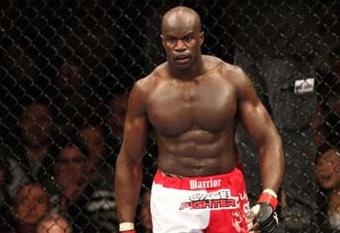 Cheick Kongo is an enigma in MMA - someone who is continually billed as an elite striker based on his kickboxing record but who regularly looks flat and unpolished in the cage.
The 6'4" Frenchman carries a massive 82" reach and several titles in kickboxing, savate and Muay Thai yet has looked mediocre on the feet against all but the lowest level heavyweights. How can it be that a man with such a respected Muay Thai career could struggle on the feet against men like Matt Mitrione?
Video that I put together: The Curious Case of Cheick Kongo
http://www.youtube.com/watch?feature=player_embedded&v=RLcebDl8DQM
There is absolutely no denying that Kongo was incredibly skilled in his kickboxing career - the few videos that exist of it make him look sublime - but they highlight the errors which still plague his game and have been amplified to make him look so middling as a striker in the UFC.
What Kongo suffers from is the fate of any kickboxer who moves to MMA - he lacks the wrestling pedigree or ability to play guard to be able to throw kicks with impunity. Any time Kongo throws a kick he must constantly be aware of being taken to the mat.
Against good grapplers Kongo will fake kicks, but never actually throw any. Against Frank Mir, Kongo faked a couple of kicks which made Mir back up, but then proceeded to do nothing and Mir simply steamrolled him.
Kongo's second great weapon - the clinch - also falls apart against competent wrestlers and indeed opponents who have trained to shake off his blanketing tactics such as Mark Hunt who easily maneuvered himself off of the fence when Kongo went to the wall and stall.
The great downfall of any great striker moving to mixed martial arts is that if your kickboxing game is not solid in the punching department you have no areas of the fight in which you are the dominant party.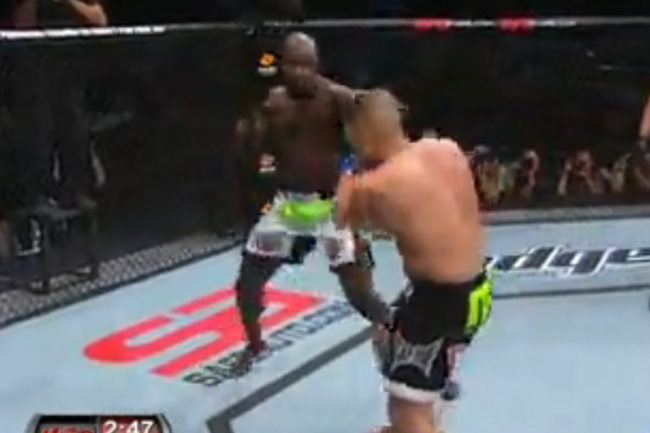 Kongo jabs with his head upright, his rear hand out of position and his lead shoulder low.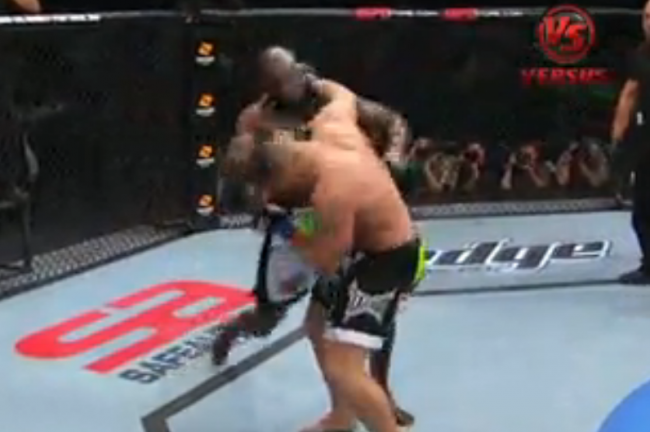 Barry connects a right hook over the top.
When Kongo is punching he is so used to being at his range - that of a man with a 80" reach - that he doesn't keep his guard up at all in many of his bouts. Watching him demolish some of the lower tier heavyweights whom the UFC matched him against in his early UFC career, Kongo will stand in front of them with his head upright, his non-punching hand down by his nipples and go completely unpunished for it.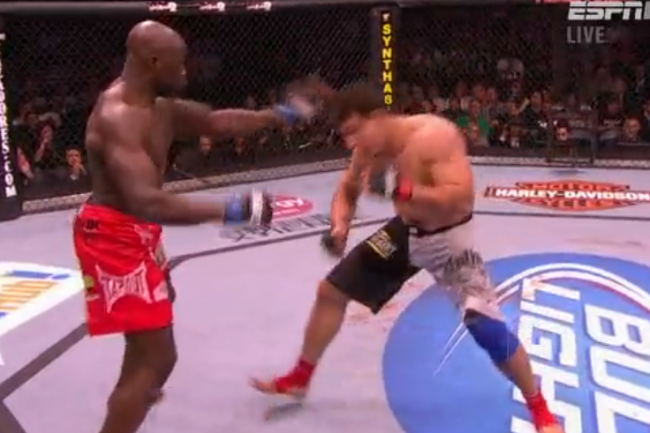 As Mir lunges in Kongo extends his lead hand and drops his rear hand.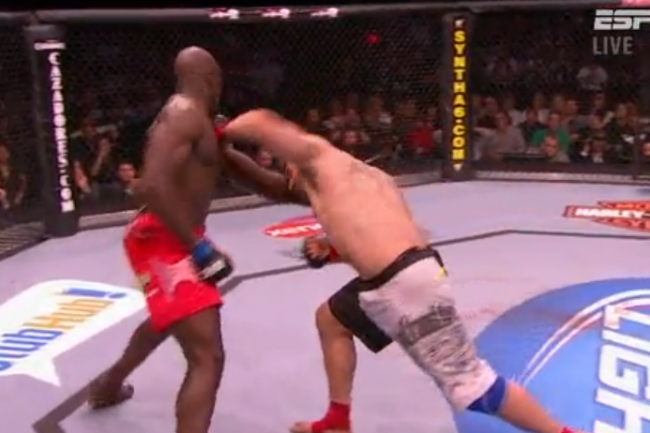 Loading up with his right hand, Kongo is in no position to defend himself.
Now that isn't to say that Kongo's hands are the worst in the UFC heavyweight division - not by any stretch of the imagination - clearly his reach and power are massively effective against men who lack the ability to slip and counter. Kongo did an excellent job against Mirko Cro Cop (in a fight full of dirty tactics by Kongo) at landing his right straight in combinations.
Continues at: http://bleacherreport.com/articles/1615814-why-cheick-kongo-is-not-a-great-striker