The original thread where the generous offer to send some Revgear/Fight Dentist boil and bite mouthguards were sent out was getting a bit long, wanted to start a new one where the recipients could put their reviews. Mine will come in spurts (BEEP!) as I lack attention span.
A comparison shot of the three mouth guards I currently have. An ooooold dentist made one, the middle is a Shock Doctor (horrible) far right is the Revgear before being boiled and bitten. My intention was to try and give you a feel for the profile of each guard but the angle I chose in the photos doesn't really tell much of a story in hindsight.
Obligatory "here's my shaped guard" shot (aka momma always said I have a face for radio). The white on the Revgear really highlights how I've Britishitized my chicklets with coffee. No, that's not a headband I'm wearing, those are my eyebrows. When I shave my head I look like a 70s NBA player.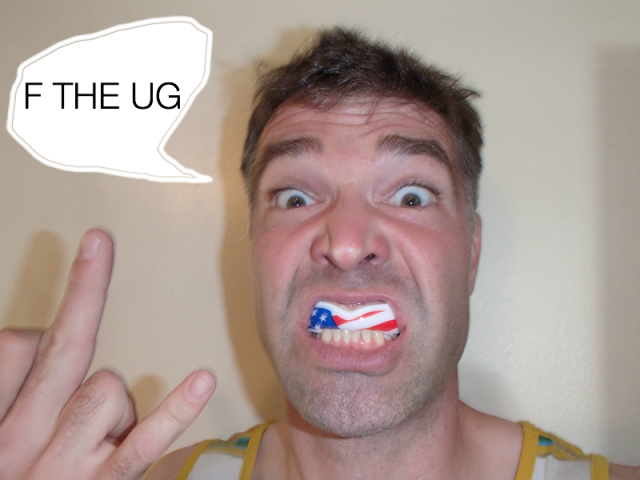 Apologize for the delays in getting a review up. I didn't want to be seen as one of those "ZOMGTHIS ISTHEGREATESTTHINGEVAR!!" type people that are too common on the internet when given something free and instead wanted to make sure I had a good mix of standard training days, timing and harder sparring sessions in before giving any sort of feedback.
First impression: When the Revgear/FD mouthguard first arrived I have to admit I was a bit underwhelmed, I think likely due to so much of the MMA industry being driven by bullshit rather than substance. I was assuming upfront that the Revgear/Fight Dentist was just trying to put a pretty face on a standard mouthguard, and my first impression of the guard matched that upfront assumption. It didn't appear like anything more than a slightly thicker than usual boil and bite with some type of sheet plastic graphic overlay.
Forming: The included instructions are pretty straightforward, especially if you've ever used a boil and bite before. My initial attempt at forming didn't turn out quite as I'd like, and to keep the comparisons between my Shock Doctor B&B and the Revgear figured I'd re-mold (it took a few attempts with the SD). The second attempt came out far better and met my expectations and way, waaaaaaaay better than the SD. The Shock Doctor mouth guard's claim to fame is their 'gel', which in my opinion is horseshit and adds zero value. When you go to form the SD guard and actually suck in/bite down tight all the gel shifts away and up the guard, leaving your teeth essentially sitting on the hard plastic frame.
Comfort: The comfort difference between Revgear/FD and Shock Doctor is literally night and day. As many on here have mentioned the SD has a lot of hard edges that tear at your lips/gums. In contrast the Revgear is pillowy (ok, not really pillowy, but it's nice) soft with no hard edges. I will say that you can feel the edge of plastic sheet that is used for the graphic, but it doesn't sit on any skin and you can only notice it if you rub your tongue on the edge (hard to explain what I'm trying to say there, let's just say it shouldn't be an issue, especially as I'm the only person that has mentioned it thus far)
Protection: Protection isn't something the average jackass off the street (aka me) can test in any sort of scientific manner as every shot you absorb will hit you at a different angle, velocity, etc. I will say that with the Shock Doctor many hits that I used to not notice when wearing my dentist made guard (I should mention the dentist guard in the above photo is NOT my newer one that was stolen when my car was broken into) were not just felt but felt hard. Very, very abrupt feeling, tooth rattling and not enjoyable. In all the times of wearing the FD I haven't had a similar feeling, and in fact the difference was very, very noticeable in just my first sparring session.
Overall for $30 I you'd be hard pressed to beat the Revgear/Fight Doctor mouthguard. You certainly can't beat it with any of the Shock Doctor guards, and while I haven't tried all boil and bites on the market I'd say based on prior experience (from years back) that this is cream of the boil and bite crop. Can you beat the FD with a custom guard? Yes, though possibly not with every custom guard as it will come down to who makes your mold and how the end product comes out, and at some point there are diminishing marginal returns. I think the Revgear/FD mouthguard easily fills that place in the market between those wanting more than a basic guard but not wanting to spring for a full custom, likely acting as a gateway drug to a full custom guard.
Thanks to Ingrained Media and Revgear/Fight Doctor for giving me the opportunity to try out the mouth guard, hope everyone else is still liking theirs!