Barboza KOs Etim in 3rd round with spinning heel kick
Saturday, January 14, 2012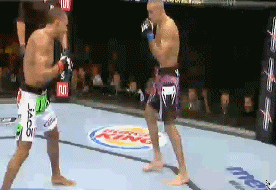 Edson Barboza is still undefeated, and he ran his record to a perfect 10-0 with an absolutely sensational knockout of Terry Etim at UFC 142.

After getting the better of Etim in the stand-up in the first and second rounds, Barboza put on a show in the third, with a spinning wheel kick that landed perfectly to Etim's chin and knocked him cold.

Etim was obviously out cold the instant the kick landed, and he fell straight backward onto the canvas.
Terence Etim Vs. Edson Barboza
Fight was scheduled for 3 rounds (5x5x5)
Name
Terence Etim
Height
6′ 1″ (185.42 cm)
Weight
155 (70.31 kg)
Record
15-3-0
Team
 
Name
Edson Barboza
Height
5′ 11″ (180.34 cm)
Weight
155 (70.31 kg)
Record
9-0-0
Team
The Armory
Edson Barboza defeated Terry Etim via knockout (spinning heel kick) – Round 3, 2:02