Benson Henderson fights with a toothpick in his mouth
Sunday, December 09, 2012
 During Saturday's UFC on FOX 5 main event title fight between Benson Henderson and Nate Diaz, fans were startled when during the third round, Henderson appears to calmly extract a toothpick from his mouthpiece and chew on it, no hands.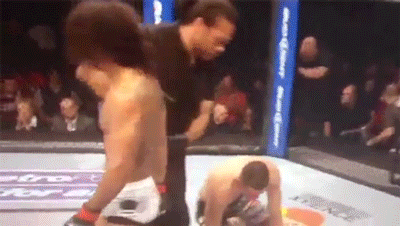 Clip of the toothpick coming out after round 3.
 During the post fight in cage interview with Joe Rogan, Henderson was asked about the toothpick, as he was later during the post fight press conference.
"I normally do (fight with a toothpick in my mouth), yeah," Henderson initially acknowledged. "I have it in practices, when I spar and when I fight. It's a bad habit, but whatever… I've gotten away with it so far."
Concerned perhaps of the dim view that a regulating commission would take of a fighter competing with a toothpick in his mouth, Henderson recanted.
"I was joking, I didn't have a toothpick in my mouth during the fight," he said. "I was being facetious."
It turns out that Henderson does indeed have a history of fighting with a toothpick in his mouth – this gif is immediately after the Guida fight.
In an interview last year with Karyn Bryant, Henderson acknowledges training with a toothpick in his mouth, describing it as a bad habit (6:01 mark)
 The last words belong to Nate Diaz, who was asked if his opponent did indeed have a toothpick in his mouth during their 25 minutes of fighting.
"I don't know if he did," said Diaz, who added correctly "but that's weird."
Expect a more than cursory check of his mouthpiece by officials at his next title defense.