Fan in South Africa gets Ronda Rousey tattoo
Friday, November 09, 2012
My friends new Ronda tattoo (pics)
From: MMc AA
Posted: 1 hour ago
Member Since: 4/16/10
Posts: 1038
My friend just got this new badass tattoo and thought I'd share with you guys. His tattoo artist's name is Kyle Nelson and is located in South Africa, this is only his 2nd attempt at a portrait and I personally think he nailed it. If anyone is in SA and wants details of the artist just shoot me a PM and I'll pass along any info.
Rousey now joins a unique club of fighters with fans so fervent that they get a fighter's image inked on their body, for life.
Call these…
…THE BAD
Kimbo alone has inspired a creek of bad ink.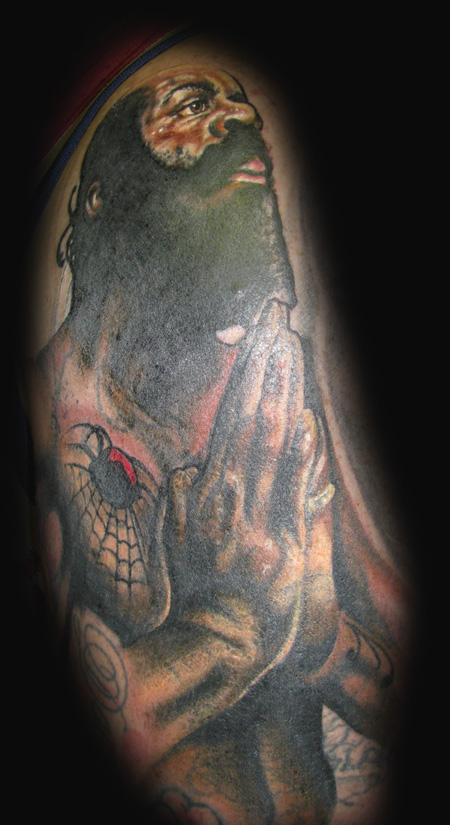 Kimbo is of course not the sole fighter that someone has chosen to have permanently on their body.
Others are not content with fighters, but opt to get a tattoo for their most beloved promotion.
TapouT of course is the inspiration for countless tattoos.
It is not all bad, however. A number of fighters boast some remarkable ink.
THE GOOD
Bas Rutten: "The one on my right hand means "Ki" that means energy, life energy. Force. The one on my other hand means "Shao" that means a long life. I put the first one on my hand, after this tattoo I never lost a fight anymore in my life. So I think, "Wait a minute This tattoo works", so I was always really afraid to die, I think maybe a plane is going to crash or something, so lets give myself a long life, so I put this tattoo on, which means a long life."

GSP: "The tattoo on my chest means that there are two sides to me. I can be very rude and I can be very nice. I like to be rude when I fight."

Jake Shields wears his heart on his sleeve:

Joe Rogan: The tattoo depicts Hogan's Spirit Molecule trip where he hallucinated and saw an Alien Thai Buddha made out of energy telling him not to give into astonishment.  If you look at the molecule in the center of the tattoo it's the DMT (Dimethyltryptamine) molecule pictured on Wiki.

Babalu: The ink and the fighter are both truly tribal:

Gilbert Yvel's tattoos could make someone's worst of list too, but he wears the names of everyone he has knocked out, which is memorable. Not sure if the list includes the ref or not.

Chris Leben: Yes, that is a head in the samurai's hand.

Genki Sudo: "The bird on my back is my design, inspired by the ground pattern on the Nezka, Peru. The left arm's symbol is the symbol of life for one of the Native American tribes. The letters under that one are Hindu letters meaning "Everything is gonna be alright". The right arm tattoo is a graphic of four Chinese characters meaning "Genki Nyorai" – my own creation of a Budda."

Alessio Sakara: "SPQR I have on my body!" Sakara says, referencing the 'Senatus Populusque Romanus' tattoo on his forearm that marks him as solider for the Roman Empire. "I like Roman history very much, and Greek history. I read a lot of books. (My favorite period) varies a lot. I like Julius Caesar and Marcus Aurelius. Everything in Rome, every period is good for me. I like the Spartan culture too, very much … It is because my name Sakara is an old name in the Roman Empire, in the south. For this I put the nickname Legionarus, which means a soldier in the Roman Empire. I am a soldier for Rome now — I fight around the world, I fight for Rome and for Italy."

Aleksander Emelianenko: If the purpose of his ink is to be intimidating, it is very effective.
Ivan Salaverry: Yes, that is something like human cockfighting. Still one of the coolest tattoos in the sport:

Wanderlei Silva: It's Wanderlei Silva

Enson Inoue: Samurai

Thiago Silva: A warrior joint locking a demon.

Brandon Vera: inked in the Filipino writing system called Alibata. Clockwise, it reads mundo (earth), hangin (wind), apoy (fire) and tubig (water).

Dan Hardy: Fighters like tats and Punk Rockers like tats, and Hardy showcases the best of both.
Ben Henderson: Reportedly took 18 hours

Lastly, sadly, we have…
… THE UGLY