Lawler stops Amagov with spectacular flying knee
Russian striker Adlan Amagov is no stranger to highlight reels, with an arsenal of spectacular kicks, strikes and throws.
But at Strikeforce 'Rockhold vs Jardine' last night, Amagov was the subject of a h— f—— s— finish, not the star, as Ruthless Robbie Lawler landed a flying knee followed by an atomic butt drop followed by strikes to decively end it.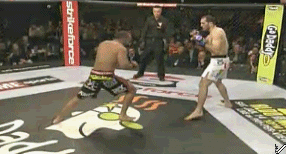 The finish was all the sweeter as if came after Amagov had a point deducted earlier in the round for an illegal knee to the head of a downed Lawler.