Mario Yamasaki: 'To err is human' instant replay would be divine
Thursday, February 02, 2012
At UFC 134 in Rio, Welterweight Erick Silva knocked out opponent Luis Ramos Do Nascimento in just 40 seconds. Four and a half months later, he came back and did it again, knocking out Carlo Prater in even less time.
However, referee Mario Yamasaki determined that Silva threw illegal strikes to the back of the head, and disqualified Silva, awarding the bout to Prater. A replay – not available to Yamasaki – appeared to show strikes that could have been legal depending upon the the definition of "back of the head" in use, and the degree to which the Prater turned in such a way that his head was exposed to an incoming blow.
UFC commentator Joe Rogan questioned the call publicly in the cage; many fans thought he over stepped his bounds in doing so. Rogan later explained himself on The Underground to what seemed to be everyone's satisfaction.
Ultimately, Marc Ratner, former Executive Director of the Nevada State Athletic Commission and current Vice President of Regulatory Affairs with the UFC determined that Yamasaki's decision would stand.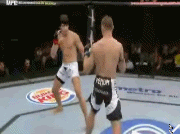 In a recent interview with Brazil's Radio PVT, Yamasaki discussed the merits of instant replay in Mixed Martial Arts.
"To err is human and it is no shame to admit that you made a mistake and change your opinion. I think it is great for the referees and give us an opportunity the take a better look in what happened and finally make our decision. The athletes work so hard to fight at the UFC that they deserve it.
"(Erick Silva) showed class and maturity. He could have made it a circus with the interview after the fight, but understood the situation and behaved like a real gentleman. He is a great kid. (Joe Rogan) was doing his job and it was my mistake of staying there in the middle. I should had left before that."
"The UFC is the one that wants and needs the most an Athletic Commission in Brazil. They want and they need Brazilian referees, judges and cutmen to help develop the sport in the country and to cut the expenses of bringing an entire staff from USA and Europe. Carlão and I are putting together all the legal issues and will be organizing many seminars, courses and training for referees, judges and cutmen. We'll start in March and will bring many professionals from the US to help us prepare and specialize people to do the work in Brazil."