Pics you don't see a lot of in MMA
Brock smiling happily

Chuck Liddell without a mohawk

Dan Hardy without a mohawk

Tito with a mohawk

Dana with a mohawk

Randy Couture with hair (just made cheerleading team captain!)

Eddie Bravo used to have long hair.

Wand and Fedor with long hair

Actually, Wand used to have long hair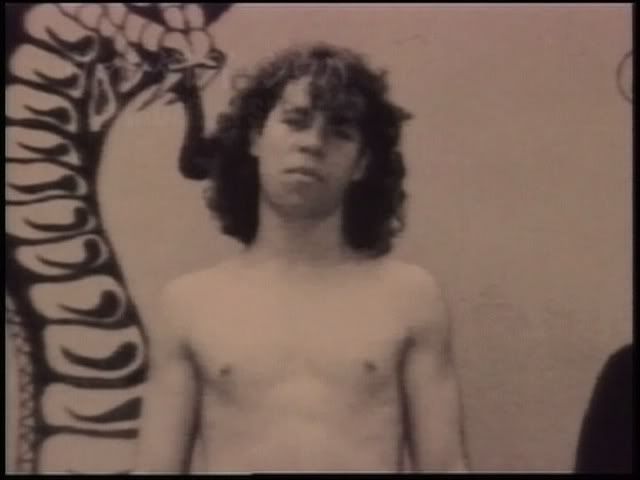 Wand playing shoulder riding game?

Father and son enjoying some pee. Faces tell you whose idea that was.

Chuck and Tito doing… this

Chuck won

Machida paddling his cow

Chael Sonnen subbing someone

Big Nog being subbed

Anderson Silva tapping out

Roy Nelson clean shaved

Mike Chiesa clean shaven

Kirik on the prowl

Ronda Rousey throwing the Fahka

Randy Couture with Paris Hilton

Gigantic Samoan passing Guard

 Jon Fitch in a non-decision:

BJ Penn with defined abs:

Dana White with hair

Bas Rutten with hair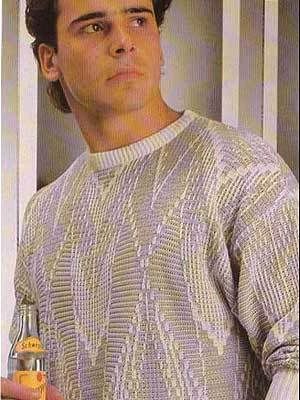 Cris Cyborg looking fetching

Kimbo without Beard


Bob Sapp winning

Ken Shamrock in a one-piece suit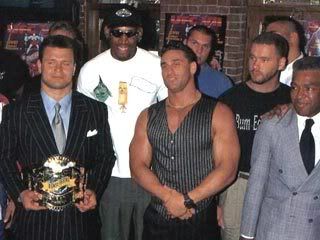 Rampage, scholar

BLAF not BLAF

Bitter rivals becoming friends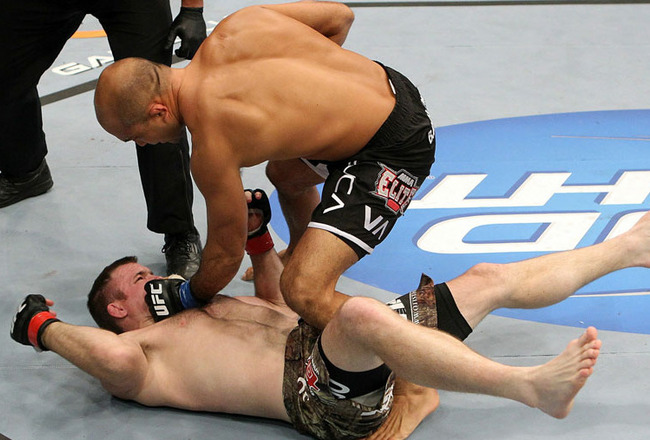 Big Cat in a wolf tee

 BJ Penn with hair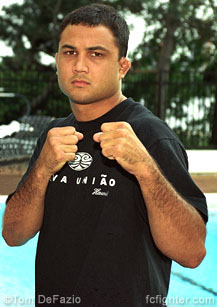 Rogan with hair

Bald Kos, cheering for someone else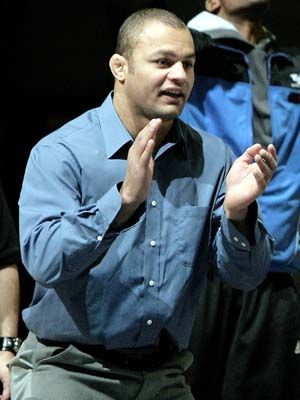 Rampage with women's underwear on his head

Diego Sanchez at play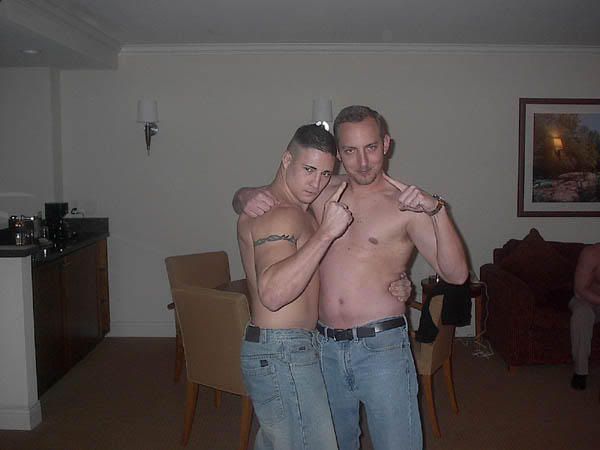 A Diaz brother grinning

First UFC poster

Dana as an altar boy

Tim Sylvia naked

Rampage upskirt

Mike Tyson always looked a little scary

Mac Danzig, not so much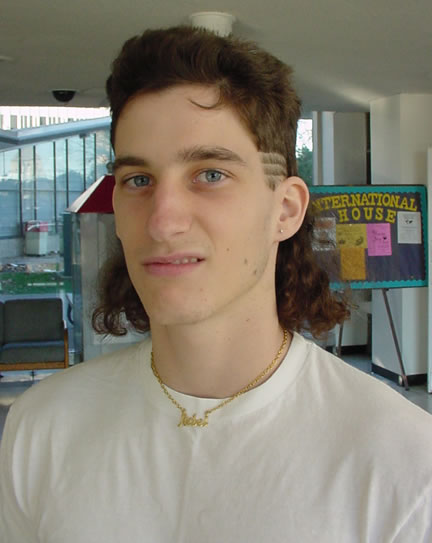 Bas didn't

Jason Miller, not Mayhem, yet

Dude, that is not me.

Roxy will always be Roxy, always has

Emelianenko brothers trying unsucessfully to look scary. Actually, as goofy teenagers, they still look a little scary.
No matter what, the Emelianko brothers always look a little scary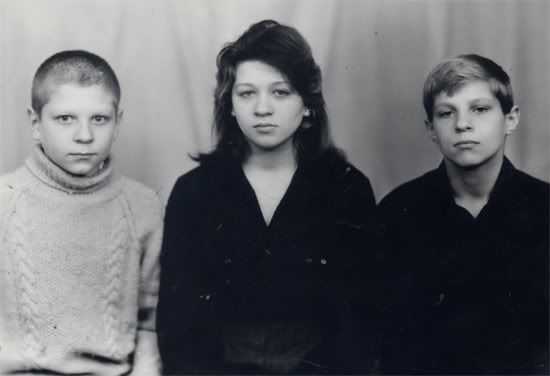 In fact, Fedor always looked a little scary. There is almost nothing that can rob Fedor of his auro of scaryness.

The cat even looks scared

No matter what, not even the Glorious Sweater of Absolute Victory AND a teletubbie takes it all away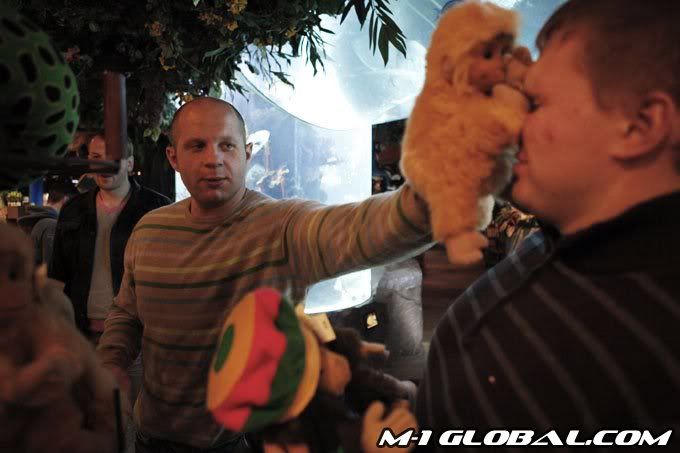 Not even fishing will do it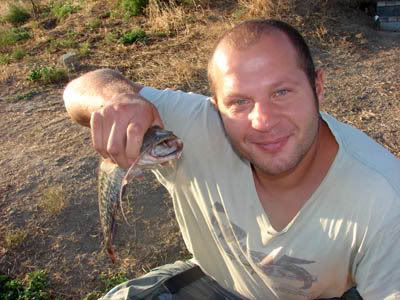 ONLY the Naked Cowboy is capable of stealing Fedor's scary aura

 Naked Cowboy was probably somewhere near by when Fedor had his passport photo taken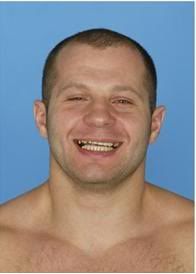 Naked Cowboy was just across teh Hudson when this was taken

Young Naked Cowboy, just out of view (and Vladimir Voronov in the tan tank top)

Korean Naked Cowboy effect

Sorry about that left big guy

No matter what, Aleks will always be scary. Fact.

 RIckson is always a little scary too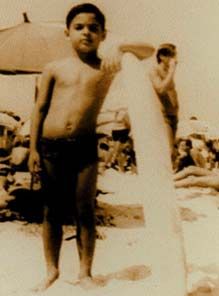 Some things can be relied upon in MMA. Hong Man Choi's melon size for example

And Don Frye's mustache

Nog brothers not looking intimidating

Shogun and Ninja

Frank Shamrock without braces

Dan Hendo, prom night

Dan Henderson without his teeth

Vadim in a UFC tee

Brock looking small (OK, even at age one, he doesn't)

Reem small (pre horsemeat)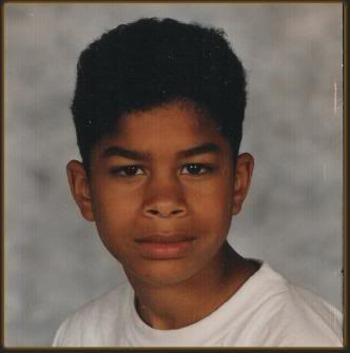 With a classmate the next year

Forrest Griffin was great on the Andy Griffith show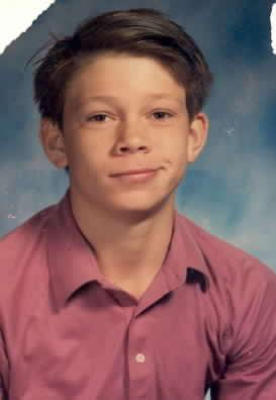 He was great as Superman, too

DFW and Josh Barnett emoting brotherly love

Seth Petruzelli tongue kissing a dude again

Matt Hughes with a male pin up (DON'T google image search Matt Hughes with safe search off 🙂

Sean Gannon, famous cartoon character

Ashton Kutchner in a BJJ gi with a black belt on, tied wrong

Ed O'Neill with a white belt on

 Rampage inexplicably not motorboating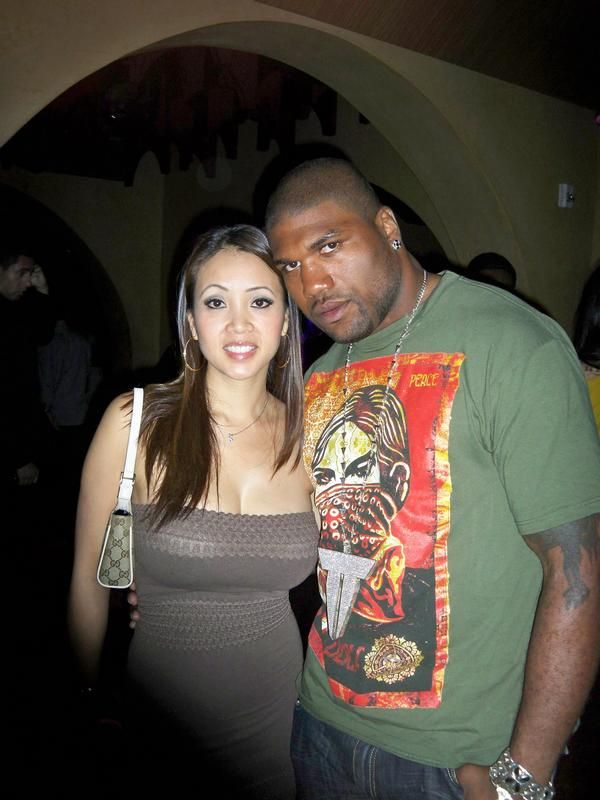 Motorboating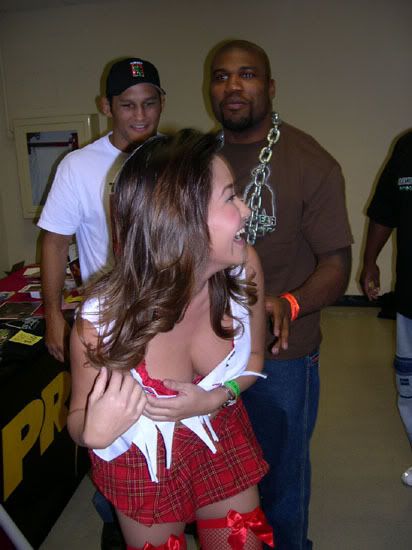 Brock without a trench knife on his chest

Early tattoo

Jones and Rashad friendly

Tank in a gi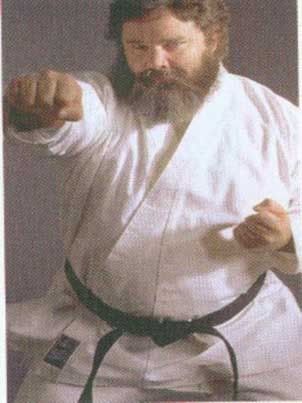 Tank in football uniform makes more sense

Tank executing his high kick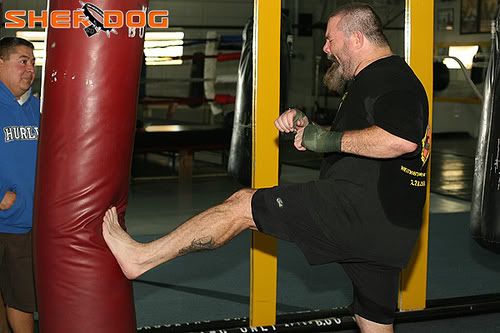 A fighter having Dana by the balls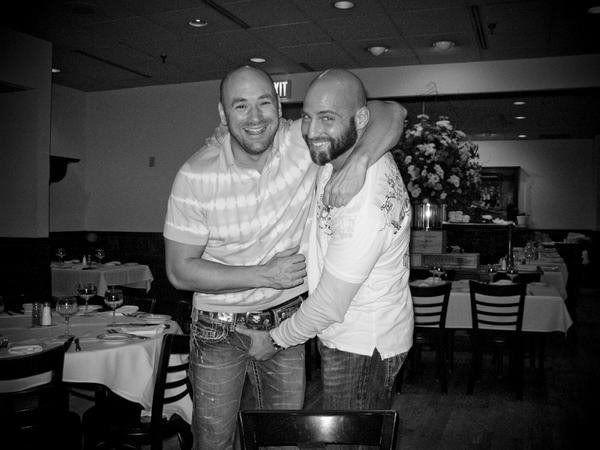 BJ Penn in a bowtie

Wand in a bowtie and glasses

Wand's dad wears glasses though

Wand in a Santa suit

Sonny Liston as Santa

If only Fedor had signed wth the UFC

 Dan Henderson with a BBQ grill crossing a street

Nick Diaz shaking his opponent's hand

That's more like it!

Cro Cop doing splits (dunno what that is on the ground)

Big Nog competing as an amateur boxer

Matt Hughes not quite getting country living

A jumping Spider

He's the Spider, see?

Every UFC champion with a camel toe

How much go in the woods does a chuck do?

Cain Velasquez with long hair

GSP with long hair (left)

Dan Hardy at the Shaolin Temple

Fedor breaking training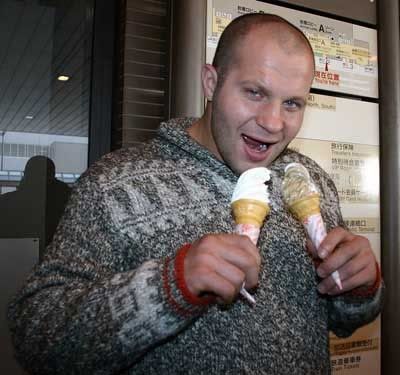 "You're talking to, I would dare say, the only fighter who has a dildo named after him here in Japan." Bob Sapp

A mammal, capable of ferocious violence, in a hat

Dana and co at Pride

Frank Shamrock arrested by Randy Couture

Wand locking arms with someone who is not in danger

Royce in a Ladder Match

JDS, really a gypsy

 Chael P. Sonnen with low testosterone

Wand and The Hammer sword fighting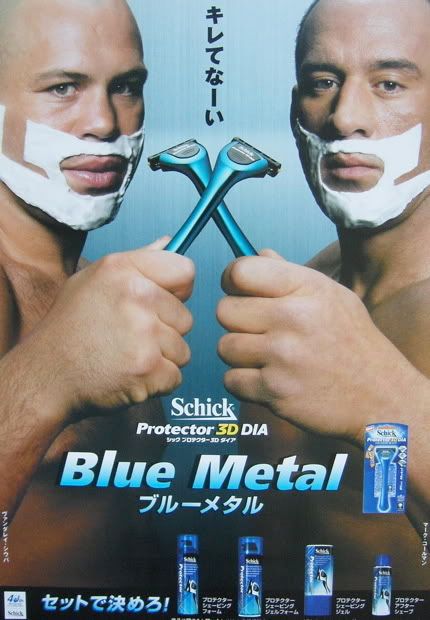 Fedor in a banana hammock

Rampage with multiple bananas in his shorts

Axe Murderer with a katana

Sakuraba hasn't changed much
Remy Bonjasky has

Cro Cop has, too

Rampage smoking

Anderson Silva doing it wrong (pre Sensei Seagal)

"Look out for that metal thang"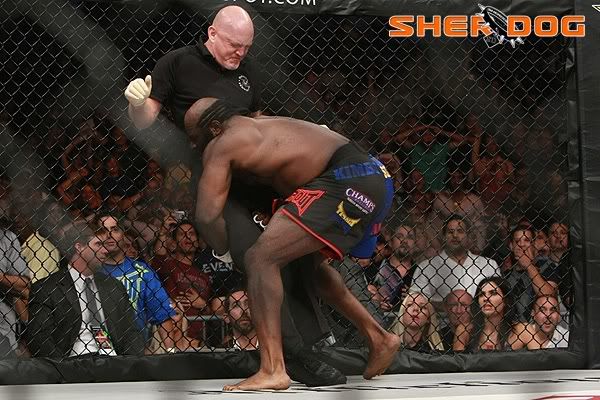 Wand tending bar
Tim Sylvia and Sean Sherk girl tug of war

Gina Carano tug of war