Tremors from slam in Brazil felt in neighboring continents
Earlier this month in Brazil's Hawk Fight Championship, Anderson "Adele" Ramos executed a KO by slam the likes of which are seen only in choreographed pro wrestling bouts, or parachuting accidents.
If anyone knows that the name of this particular takedown is, post below.
If you don't know, make something up!
Slams like that only happen every couple of years. To find the likes of it, you have to back into MMA history, back to…
Travis Fulton vs. Jeremy Bullock in 1998:

…Wes Simms vs. Edwin Allsitez in 2002: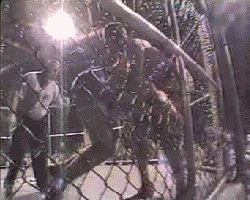 … and Fedor Emelianenko vs. Kevin Randleman in 2004:

Bullock asked for a rematch, Allsitez had six more fights, and Fedor of course tapped Randleman less than a minute later.