Pumping the hate brakes on Paige VanZant's BKFC failure
For all intents and purposes, BKFC 16, or "Knucklemania," was a success. The event was an entertaining affair and even trended worldwide on Twitter at one point. However, this event was marketed heavily around the debut of big-ticket free-agent addition Paige VanZant. And the former Ultimate Fighting Championship flyweight's first foray into gloveless fighting did not go as planned.
Does this mean "12 Gauge" will be a bare-knuckle bust? Should we pump the brakes on criticizing the promotion's expensive purchase from mixed martial arts? The answer likely lies somewhere in the middle.
Grin and "bareing" disappointment
As far as a combat sports debut goes, VanZant's first in Bare Knuckle Fighting Championship was a disappointment. Not because the fight wasn't a solid and entertaining scrap, but when a promotion allegedly invests US $400,000 in talent, they're hoping at the very least to start that contractual relationship with a victory. Mainly, to build momentum, and interest for that investment to pay out big down the road.
BKFC was smart not to throw PVZ to the wolves and instead gave her a fight she could certainly win. She entered her bare-knuckle debut as the betting favorite, facing a fighter in Britain Hart, who was 1-2-3 in professional boxing, and 1-2 in bare knuckle boxing (via Tapology). Meaning, despite having more boxing experience, in a situation where that really mattered, oddsmakers still viewed VanZant as the better pugilist.
After five competitive rounds, the organization's best intentions went for naught, and Hart scored a unanimous decision victory. VanZant often looked like a fresh fish in a new sport, facing a true BKFC veteran in Hart. Was it a debut that forced comparisons to Michael Chandler's destruction of Dan Hooker at UFC 257, or Alistair Overeem kicking Brock Lesner into a five-year retirement at UFC 141? Certainly not. However, it wasn't as stunning as Paulie Malignaggi's bare-knuckle debut loss to Artem Lobov, at BKFC 6. And the latter is an important piece of history to remember.
Postpone the hate parade for now
When Malignaggi, a former two-division boxing world champion, entered the BKFC ring in June 2019, most combat sports observers expected a masterclass showing what "real" boxing is all about. The retired star from the land of sweet science was supposed to go in there and piece-up the former UFC fighter, who wasn't even a great striker in MMA. Yet none of that happened. Instead, the former mixed martial artist, with more losses than wins, confirmed experience in this unique sport does matter. Lobov upended the "Magic Man's" lone foray into bare-knuckle fighting, and there was no controversy to be found in the victory.
Sure, bare-knuckle fighting is still essentially boxing. However, Malignaggi and VanZant's debut performances show this is a different sport, with different ways to win, and a scoring style based around action, and aggression. If a highly-skilled, and experienced boxer like Malignaggi couldn't master it quickly enough to squeak out a win over Lobov, then VanZant's learning curve was always going to be steep.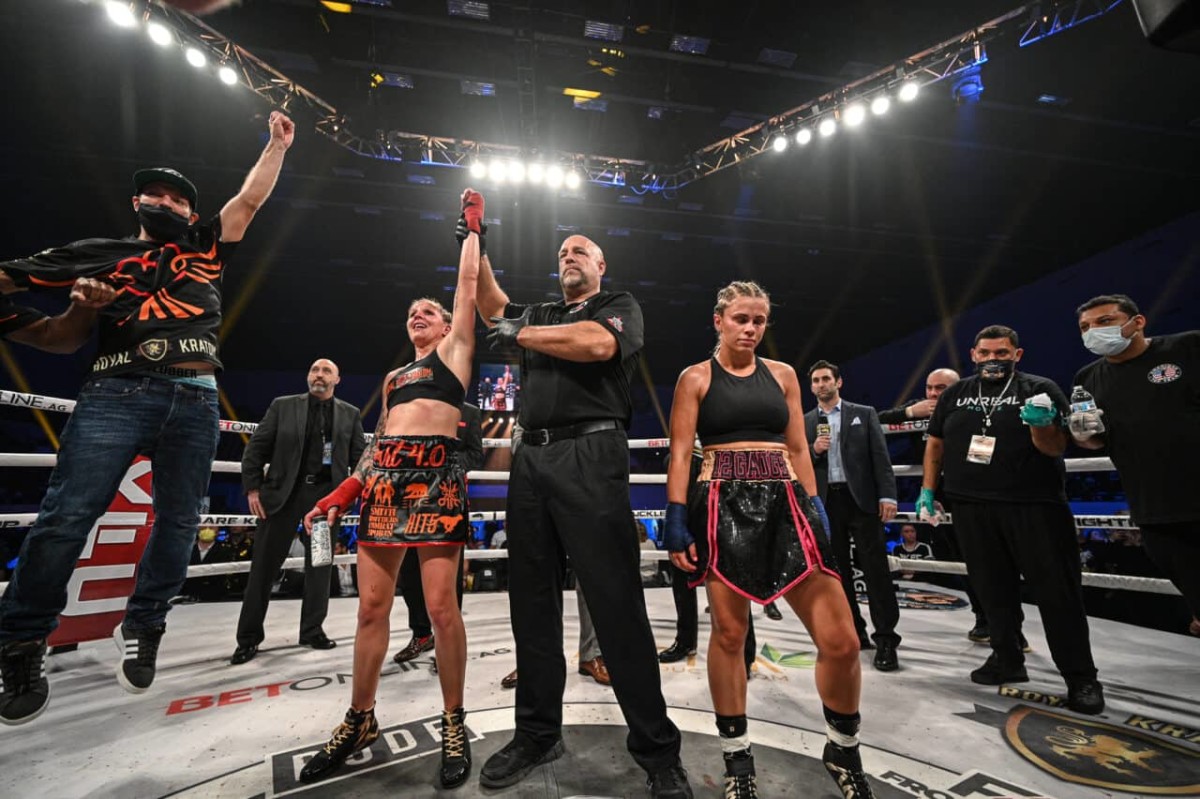 VanZant is a talented athlete and mixed martial artist. Yet, there was clear evidence that her jump into a boxing-based sport could be a problem. Throughout her MMA career, boxing was never her calling card. In 13 fights, 76% of her wins came by submission or decision, and included a fair amount of grappling. She had two TKO victories in eight wins. The most recent being an impressive switch-kick knockout of Bec Rawlings in 2016, and a ground-and-pound drubbing of Kailin Curran two years before that. Neither of those instances, along with her total body of work, stood as proof her switch to this striking driven sport would be easy.
That doesn't mean she didn't do some good things in her debut. Despite throwing four fewer punches than Hart over the course of the fight (146 to 150), she ended up landing five more (61 to 56). By the fifth round, she seemed to have a better handle on the style, and the final frame was by far her best. It was simple strategic errors that cost her, such as, expecting her clinch game to crossover successfully. That area turned into a position where Hart racked up points with bodywork and effective dirty boxing.
The newbies' guide to bare-knuckle success
VanZant rose to fame in the UFC, and landed a spot on "Dancing with the Stars," not only from her ravishing good looks but because she is a superb athlete. She has physical gifts such that another camp at American Top Team, combined with her new experience, could lead to a marked improvement in her BKFC return. And an impressive win in that fight would quickly erase memories of her debut failure.
She should also look to former UFC foe Bec Rawlings for a path to bare-knuckle success. Rawlings did not take the MMA world by storm in losing eight of 15 fights. However, she made this very same switch in sports, went unbeaten over three fights, scored the BKFC's first women's title, and became known as the "Queen of Bare Knuckle." VanZant has all the talent and infrastructure to follow that blueprint, and turn the organization's latest MMA purchase into its greatest yet.
Join the discussion on this topic...
Share