---
OPERATION OCTAGON IX - Mixed Martial Arts (MMA) Event on November 7, 2009 in Sterling, Virginia USA
Operation Octagon IX: November 7, 2009 in Sterling, VA. Non-stop, Action Packed PRO/AM Mixed Martial Arts Fighting inside the Cage. For tickets, information, and fighter registration, visit our website at www.OperationOctagon.com.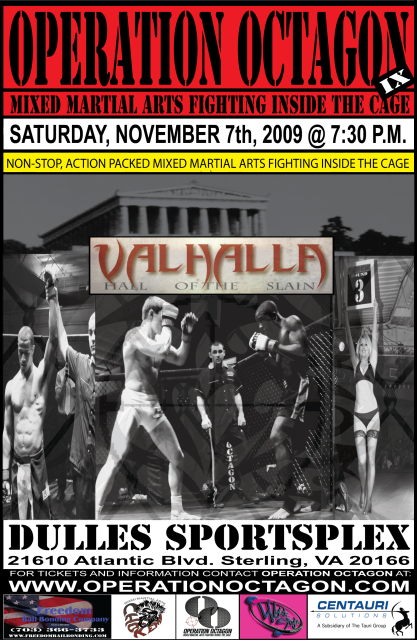 Event

Information
Name:
OPERATION OCTAGON IX
Date/Time:
Nov 7, 2009 12:00 AM
Location:
21610 Atlantic Blvd
Sterling, Virginia USA
Promoter:
Operation Octagon
Contact:
Art Sylmar
Website:
OperationOctagon.com
Commission:
Virginia Boxing And Wrestling



* Official events are those supervised by an Athletic Commission as defined by the Association of Boxing Commissions.