Edited: 13 days ago

Member Since:
2/7/08
Posts:
3698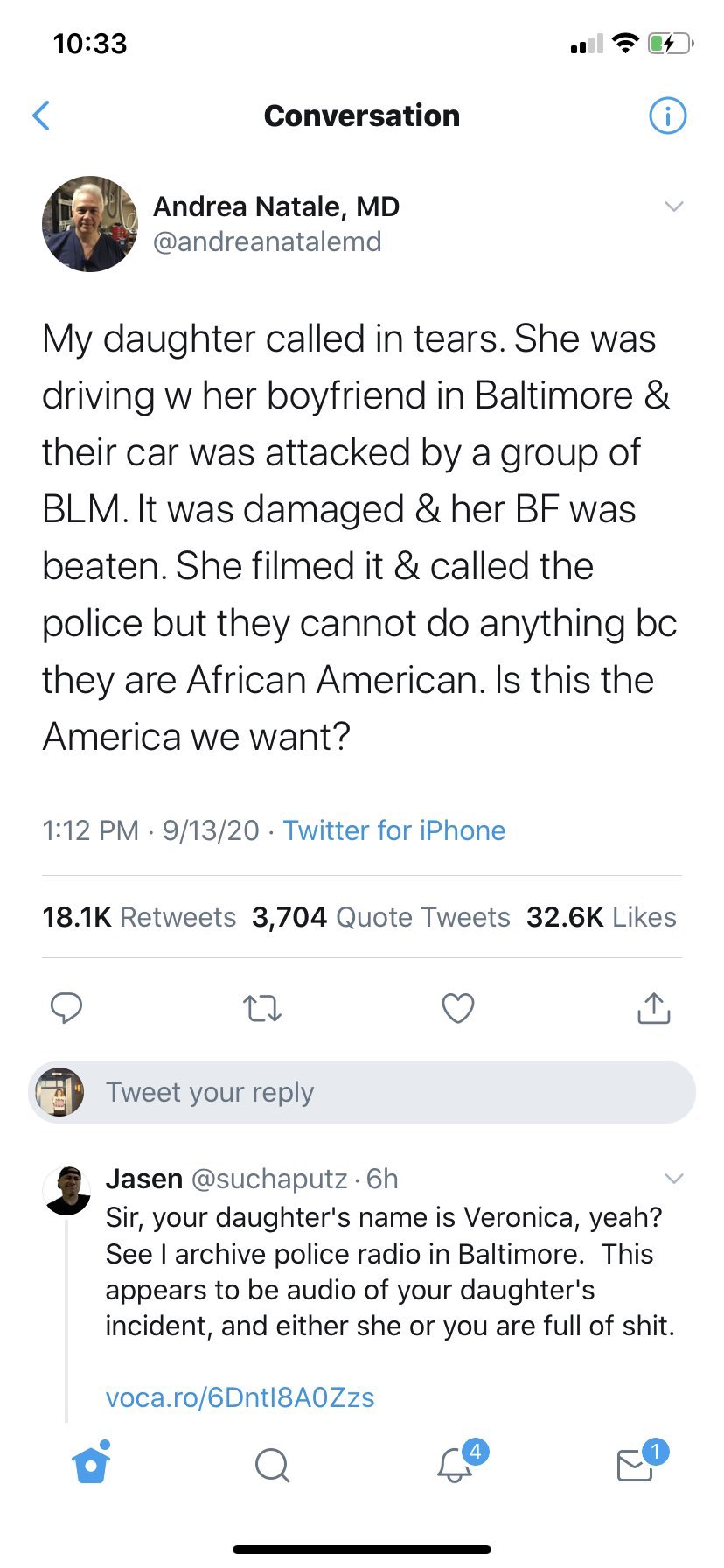 On Sunday afternoon, a Texas cardiologist wrote on Twitter that his daughter in Baltimore had been attacked by "BLM" or Black Lives Matter activists, and that city police refused to do anything because the suspects were Black.
"Is this the America we want?" he tweeted. Nearly 50,000 people uncritically retweeted or liked the post.
But two different Twitter accounts with a close ear to the police scanner found what appeared to be the incident in question: It didn't involve activists, but rather squeegee kids.
With questions being raised, the cardiologist, Andrea Natale, locked down his account and eventually deleted it. He's since apologized, saying he overreacted out of concern for his daughter and that his words were "misinterpreted."
The incident didn't go down as Natale described, but it wasn't a complete hoax, either.
Baltimore Police released body camera footage of the encounter to The Baltimore Sun. It shows a couple explaining to an officer that they declined to have their windshield washed. A male tells the officer that he jumped out of the car, and that three squeegee washers approached and surrounded him.
"I said, 'I will defend myself, I do have a knife on me.' [One of the squeegee washers] said, 'I have a knife too,'" the man tells the officer.
The couple tells the officer that the squeegee washers then started throwing rocks at them. The man asks what can be done about squeegee kids.
"To be honest, the city doesn't want us to engage with squeegee boys," an officer says. "It's illegal to be in the street, but the city doesn't want us to ... " he says before trailing off.
The officer tells them to contact City Hall: "It's crazy, it's sad." He never says it's because the teens are Black, but instead because it's a misdemeanor that he didn't witness. He said he would try to locate them but that he wasn't familiar with them.
The Scan the Police Twitter account relayed scanner radio information as the incident was happening Sunday afternoon, saying that a woman had called police to report that squeegee kids were throwing rocks at her car at Lombard and President streets. Once Natale's tweet went viral, another Twitter user who archives scanner traffic linked the squeegee incident to Natale's claim and posted a one-minute audio clip.
https://www.baltimoresun.com/news/crime/bs-md-ci-cr-natale-viral-tweet-blm-20200916-o5uooavvu5glxaklpw3pzwpzbm-story.html
Sir, your daughter's name is Veronica, yeah? See I archive police radio in Baltimore. This appears to be audio of your daughter's incident, and either she or you are full of shit.https://t.co/rXgjnDjn7q

— Jasen (@suchaputz) September 14, 2020
"A group of BLM"?

You mean protesters? There wasn't a protest yesterday. We were on the scanner & heard nothing of the sort of incident you mean, fwiw. We heard of adults trying to fight squeegee kids, if that's what you mean? https://t.co/013xOeg7F3 https://t.co/HrEAVLYsu9

— Scan the Police // Baltimore City (@scanthepolice) September 14, 2020
Additionally, if this is indeed the incident your daughter was in tears over, Baltimore cops *did* go to that location, as you can see in the thread they linked. No squeegee kids were there & neither were the drivers who said they were driving back to fight them.

— Scan the Police // Baltimore City (@scanthepolice) September 14, 2020
Anyway, if this is what your daughter was telling you: There were four children at that intersection washing windows. We saw them ourselves & heard this call come in on the scanner a little later. Sorry your daughter lied to you, hope this helps.

— Scan the Police // Baltimore City (@scanthepolice) September 14, 2020
Dr. Andrea Natale, Texas cardiac specialist who falsely accused members of Black Lives Matter of attacking his daughter in Baltimore has issued a statement, according to the healthcare system he works for, St David's HealthCare pic.twitter.com/didPhIS69s

— Jayne Miller (@jemillerwbal) September 15, 2020
According to the audio file, what Natale identified as "a group of BLM" was actually a group of Black kids with squeegees washing cars.

Here's what a very much over it 911 operator said to the responding officer: "Sorry, they told us there's an armed person…what it is is the squeegees at Lombard and President, this lady Veronica's calling and says, "They are attacking the car." She thinks one of them pulled a knife. Then she says a Black male wearing a white tank-top, black pants, and those [garbled] ring tennis with the white stripes were throwing rocks at the car, he got on his scooter and is on the median."

This dispatcher goes on to tell the officer, "Okay, it's gone from one of them she thinks pulled a knife to now they all threw rocks at her car and broke her car window." The dispatcher then said that "the number 2 female driver and number 2 female passenger were fighting with the squeegee kids at [the] location," and that the caller "says the vehicle was damaged and they got out and started arguing and fighting with them." There is no mention of a boyfriend being beaten.