Member Since:
8/1/13
Posts:
8143
Tolerant leftists strike again. Hope they were ILLEGAL so out they go.
THIS BEHAVIOR MUST BE DENOUNCED IMMEDIATELY BY LEFTISTS ON THE OG!
Can't wait for 2020
MAGA!
http://www.wafb.com/story/38725383/trumps-star-on-hollywood-walk-of-fame-destroyed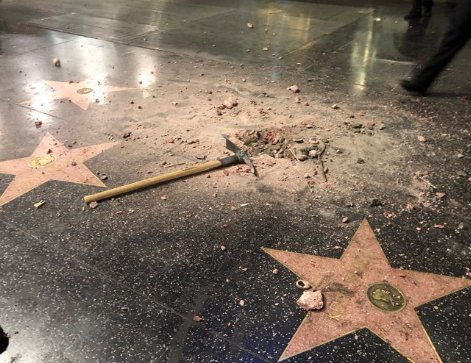 President Donald Trump's star on the Hollywood Walk of Fame has been destroyed.
The star was reportedly destroyed with a pick axe overnight.
Photos show the star and surrounding brick in pieces.
Trump's star had been vandaziled before but not to this magnitude.
James Lambert Otis took a sledgehammer to the star in October 2016, when Trump was a presidential candidate. He pleaded no contest to felony vandalism on Feb. 21, 2017, according to the Associated Press and was sentenced to three years of probation, 20 days of community labor and a $4,400 fine for the damage.
Earlier this month, comedian George Lopez pretended to urinate on the star.
Tump was honored with his star in 2007 during his run on NBC's television show Apprentice.
"He was selected for his producer job for his Miss Universe shows," Ana Martinez, a spokesperson for the Walk of Fame told Fast Company.
The star will be replaced immediately.