Member Since:
12/7/10
Posts:
2892
If there was ever a doubt we truly live in a twilight zone world, this Gina Carano story cracks the nut. Just for context, before we even get to the story, let's remember who Gina Carano is. A former MMA fighter turned movie actress, who to the best of my knowledge, had NEVER had a single negative incident regarding race in her entire career.
Last week, Gina posted this tweet to her twitter page. It's a famous picture of a man at a Nazi rally, the only one present that did not do the nazi salute. All around him people are saluting their allegiance to the Nazi flag with the Nazi salute. The man stands stoically with his arms folded. The picture is famous as an example in courage of someone who refused to follow the crowd and stood firm in his principles. Back story is the guy was in love with a Jewish woman and he refused to embrace Nazi beliefs on her behalf.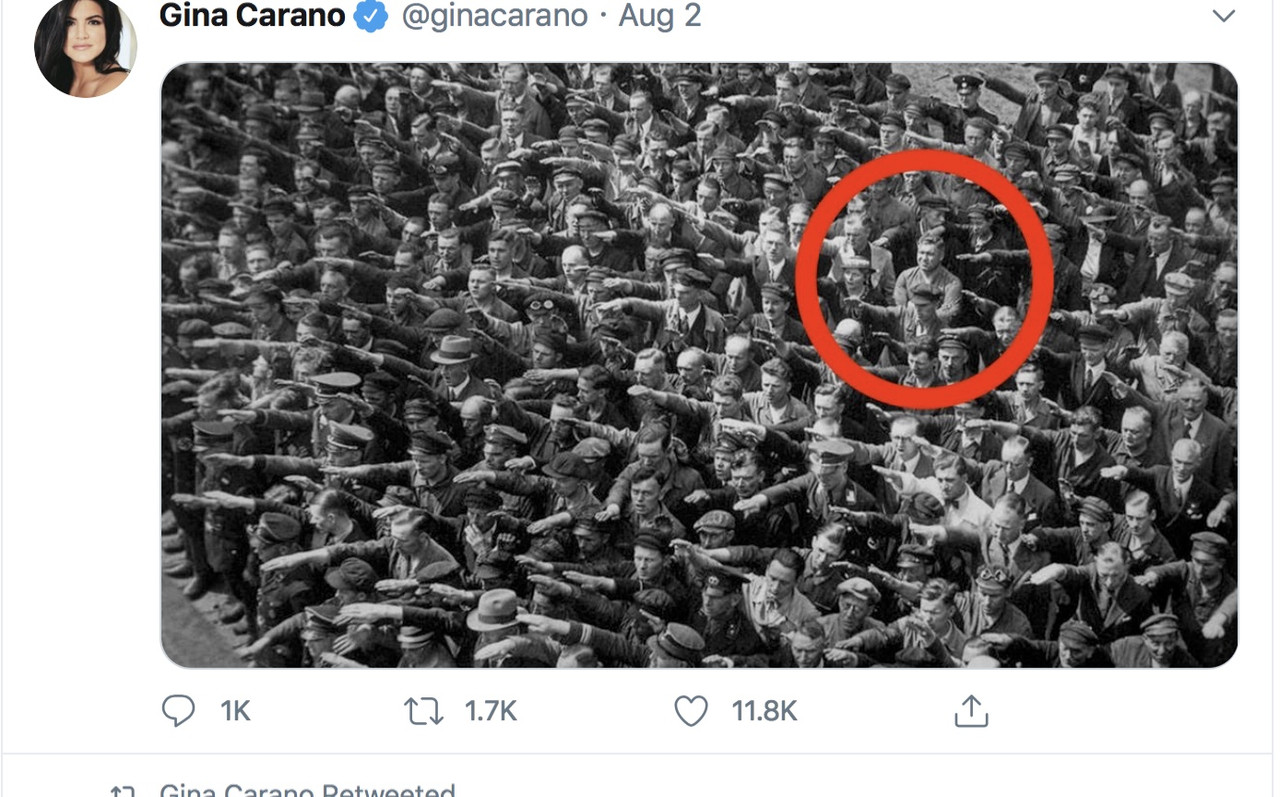 Gina explained this to her followers who asked about the tweet and you wonder how on God's green earth any person could end up being offended by this.
But this is 2020 and were stupidity goes, the wokerati is soon to follow.
In short order, Gina began receiving numerous vile and hateful messages, with people accusing her of being a racist because she neglected to specify that she also supported blacklivesmatter, that she often blocked people who tweeted about blacklivesmatter on her page, that she follows Donald Trump and other Republicans, and that she doesn't hate cops.
One particular insufferable wokerati tweeted that the people making these awful allegations were not bots as Gina claimed, instead they were just trying to 'educate' her about racism.
That is the one bullshit line that drives me insane. This holier than thou attitude that says I need to educate you about this issue.
To her credit, Gina has not backed down an inch, as befits a former fighter, calling her attackers bullies and cowards and trash that can take themselves out.
I don't blame Gina for blocking some of these people. If all you're gonna do is come onto the woman's page and spew hateful accusations, you deserve to be blocked.
Thankfully, she has also received a gushing of support from people saying to stay strong and keep being the positive, kind and respectful person she has always shown herself to be. Love will always triumph in the end.
The Wokerati was asked to respond, but they have moved on to attacking Kylie Jenner for her appearance in Cardi B's video.
God help us all.