Edited: 10 days ago

Member Since:
1/23/06
Posts:
105138
Khabib and Tony seem so happy together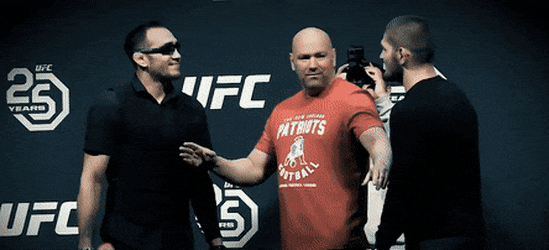 Member Since:
6/17/16
Posts:
7890
He's got tons of friends... all he has to do is show up at the club on the weekend with a fat sack of that White Lady and comped drinks all around and they pop out of the woodwork like roaches.
It's that MacLife babee, sweet to be the king.
Member Since:
5/15/15
Posts:
630
ufcwatcher -

Even in Conor's prime he held company with guys like the socially awkward Artem and Dillon Danis.

Freindless and forgotton.

ConorWinsTheRematch actually has a chance.
Don't forget that other wierdo The Lion King.
Member Since:
1/23/06
Posts:
105148
inf0 - epic cartoon

yes. because of the Diaz/Masvidal and Tony/Khabib. captures their affects perfectly