Dojo storm in Germany with a machete
Abeku Afful: "I forgive you. It remains to be seen if God does. "
This article is part of a larger effort to learn what works by seeing what happens when martial arts are employed outside the arena. If you enjoyed it, check out more stories on:
•Dojo Storms
•Martial Arts on The Street
•MMA
On May 18, 2016, Hamburg, Germany was the site of one of the worst dojo storms since Count Dante lost his best friend Jim Koncevic to the wrong end of a trident, after the pair attacked the Green Dragon Society's Black Cobra Hall in Chicago on Wednesday, April 24, 1970. MMA fighter Abeku Afful was in a room at Nexus Fighter Academy, finishing up training by himself for a fight that Saturday, when five men armed with clubs, knives, and a machete arrived at about 9:45 p.m, surrounded him, and attacked.
Afful was initially able to defend himself with a mop, but eventually was overwhelmed, leaving him with life-threatening injuries. Afful managed to tie off a machete cut to the leg with a jiu-jitsu belt before emergency services arrived. 
 "The blood splattered up to the ceiling," he said. "I just thought, 'I don't want to die without knowing who the perpetrators are and they're caught.'" 
That wish came to fruition. Witnesses identified an attacker via voice and stature as Ismail Cetinkaya, 34, a 7-4 MMA fighter, who ran MMA Hamburg gym. Cetinkaya and two accomplices were arrested and taken into custody.
Images of the injuries are not safe for work, at all. They appear below in a gallery, Be forewarned - they are gruesome.
Abeku Afful images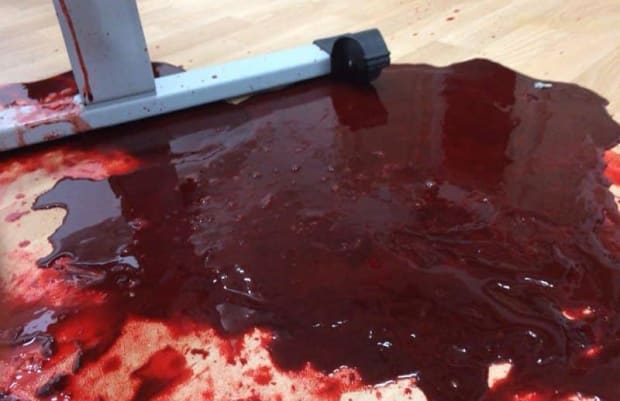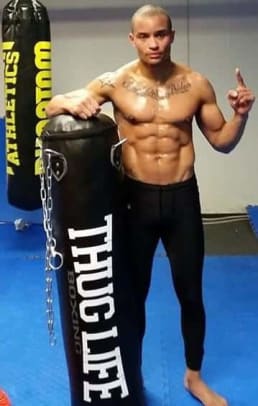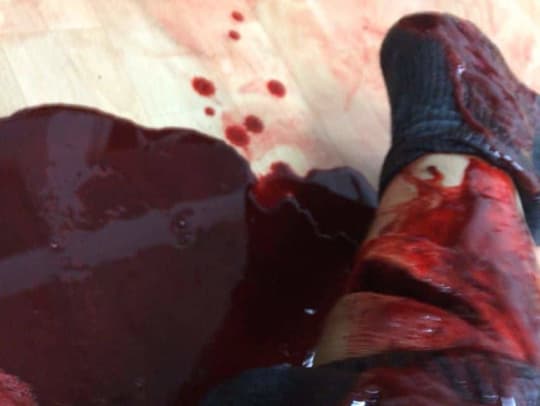 Why it Happened
Figures close to the situation report that Afful had been a student of Cetinkaya's gym, but broke away to open up his own facility. A female instructor at Cetinkaya's MMA Hamburg also was reportedly training at Afull's gym. Cetinkaya, incensed at alleged fighter and staff poaching, had reportedly been texting threats.
Cetinkaya is known in the MMA community for his opposition to ISIL and radicalism generally, and for his MMA victory over Deso Dogg the former German rapper who fought for ISIL in Syria, and was killed by air strikes in 2018. Thus the incident does not appear to have any political motive. It was simply a case of petty jealousy, taken to an unhinged level.
Afful underwent emergency surgery for a severed artery and tendon from the machete attack. In a message on his Facebook, Afful forgave his attackers, but noted that God may not. The fighter also thanked his friends and students in the gym for stopping the attack and saving his life.
"It was not the police who have saved me," we wrote, according to Google translate. "The people who have saved me ... were two friends ... I wouldn't be here, I'd have died. I owe you my life... Thank you."
The fighter named his friends Kurt Braun and Julian Georgescu. The fighter also addressed his attackers.
"And the perpetrators, I forgive you," he wrote. "It remains to be seen if God does."
"Now I lay me down a bit. It remains to be seen if I can ever fight again. At least I haven't lost my leg. Thank you to all who kept me in your thoughts and prayers."
The Aftermath
Afful went on to have further surgeries, totaling eight in all, and recovered, although not fully. Never the less, he determined to fight once more.
"The wounds haven't really healed properly, I hardly have any feeling in my left leg," he said. "I really wanted to determine my end as a martial artist myself. ... It's pure fighting spirit that is now driving me back into the cage."
Abeku Afful ended his career with a submission win over Veselin Dimitrov at We Love MMA 43 in Hamburg, Germany, on November 24, 2018.
Today, Afful's gym is a success. He regards his attacker with a mixture of contempt and pity.
Ismail Cetinkaya was sentenced to three years and eleven months in prison. While that seems an astonishingly short sentence for attempted murder, there was apparently ambiguity over who wielded the machete, and the group argued they had planned only a beating, but things escalated.
According to his Instagram account, Cetinkaya is currently offering online and personal training.
Share your thoughts about what happened on The UnderGround Forum.