Spinning heel-kick KO earns title shot for Ross Levine in Karate Combat Season 4 opener
Four fights, three finishes in explosive Karate Combat Season 4 premiere.
A shot at the Karate Combat world middleweight championship awaits Ross "Turbo" Levine following his spectacular finish of fellow contender Igor de Castaneda in the main event of Saturday night's Karate Combat event.
Their globally televised encounter headlined a card packed with explosive finishes and highlight-reel moments. Three more events remain in the Karate Combat Season 4 lineup, airing at two-week intervals and culminating in the Season 4 Finale on June 25.
With both Levine and de Castaneda having a long-simmering beef and a string of knockout wins to their names, combat sports pundits predicted this encounter would not go the distance. 
They were proved correct in the second round when Levine – having successfully shut down the thread of Castaneda's huge right hand – landed a spectacular spinning heel kick which ended their fight.
The fight had officially been designated a middleweight contender eliminator, with the winner guaranteed a title shot. Karate Combat president Adam Kovacs confirmed that Levine will now go forward to face reigning champion Shahin Atamov, an enigmatic figure with a ferocious finish-rate, later this year.
"This is why they brought me into Karate Combat, to come in here and make statements," Rhode Island man Levine said post-fight. "He was very hurt by that spinning axe kick – my own heel hurts from it. But he'll be back. He's a great fighter."
"Shahin Atamov presents a new puzzle, a new challenge, but I guarantee I'll be ready for it. I'm gonna go back home, celebrate a little bit and then get right back to work on bringing that middleweight title to the U.S."
'Karate Combat Season 4: Week 1' photo gallery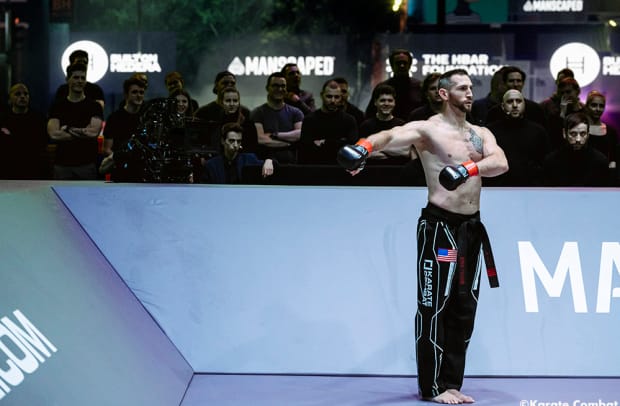 The chief support bout saw Lazar Kukulicic and Mitchell Thorpe meet in a hard-fought battle of lightweight prospects which produced an incredible highlight moment in the very first round. 
A tense feeling-out process exploded into life when Montenegro mountain man Kukulicic – a qualified oncology nurse in his homeland – suddenly picked Thorpe up, ran to the top of the pit wall, then leaped off into a diving slam which drew gasps from the crowd.
The move knocked the air out Thorpe and allowed Kukulicic to seize advantage for the remainder of the round and much of the second. The gritty Thorpe was finally able to turn the tables in the third and final round, but it wasn't enough to affect the result – Kukulicic was the clear decision winner when the final bell sounded.
"That was a battle of titans, real fireworks. I knew it would be," Kukulicic said. "I would like to go for the title next, but maybe I need another win first. It doesn't matter who's next, I will fight anyone. I'm the 'Lion King,' and when the lion is hungry, he eats."
Heavy-handed newcomer Stefanie Oliveira shocked fight fans worldwide with her second-round stoppage of three-fight Karate Combat veteran Fabiola Esquivel.
Oliveira, who trains under MMA champions Patricky and Patricio Fereire at their Pitbull Brothers gym, piled relentless pressure on Esquivel with a non-stop barrage of punches and body blows.
Esquivel weathered the storm until the final moments of the second round, when suddenly she began to fold. As the merciless Oliveira stepped in to finish her hurt and defenseless opponent, the referee jumped between them and waved the fight off, handing Oliveira an impressive win for her Karate Combat debut.
An impressive Karate Combat debut was also on the cards in the event's opening bout, when newcomer Artur Gasanov took out the returning Tommy Azouz in their lightweight contest with what would turn out to be just one of two spinning heel-kick stoppages on tonight's card.
Ducking from punches, Azouz dipped his head into a forceful spinning kick. Somehow he stayed upright, but was clearly out on his feet. The following punches from Gasanov were unnecessary – the fight was over.
Catch the event replay below:
Karate Combat's next event airs on Saturday, May 28, with Karate Combat world lightweight champion Edgars "The Bearslayer" Skrivers defending his title in a bad-blood rematch with bitter rival Luiz Rocha in the main event.
Karate Combat Season 4 is televised worldwide. Visit Karate.com for regional "How to Watch" information.