Anthony Johnson calls Paulo Costa lazy 'b*tch' for not trying to make original weight for UFC Vegas 41
Credit: Bellator/Lucas Noonan
In a pair of Instagram story posts, UFC veteran and current Bellator light heavyweight, Anthony Johnson, slammed UFC Vegas 41 headliner Paulo Costa for not trying to make the bouts originally contracted weight of 185-pounds.
A lot has changed over the last 48 hours for Saturday night's UFC headliner in Las Vegas, Nev. The original plan was for top-five middleweights Paulo Costa (13-1) and Marvin Vettori (17-4-1) to battle in a pivotal matchup of two former title challengers looking to keep themselves in the hunt for a championship opportunity in 2022. However, that all changed on Wednesday, then again on Thursday.
On Wednesday, "Borrachinha" arrived at his media day interview with MMA reporters and confirmed what his opponent had informed them just moments before. That he was not going to be able to make the division's non-title weight limit. Just days before the fight, he was nearly 40-pounds away from that goal, and he hoped a renegotiated catchweight could be agreed upon.
Anthony Johnson calls Paulo Costa a 'b*tch' for not making weight for UFC Vegas 41 middleweight main event
Yesterday, the new weight for the matchup seemed to be settled at 195-pounds. But that again by Thursday evening, and the fight was moved up another 10 pounds. Turning it into an official light heavyweight bout. The 30-year-old will lose 20% of his fight purse for not reaching the original weight goal, but he has still taken flack from fans, media, and even fighters for what seems like disinterest in even trying to meet his contractual obligations.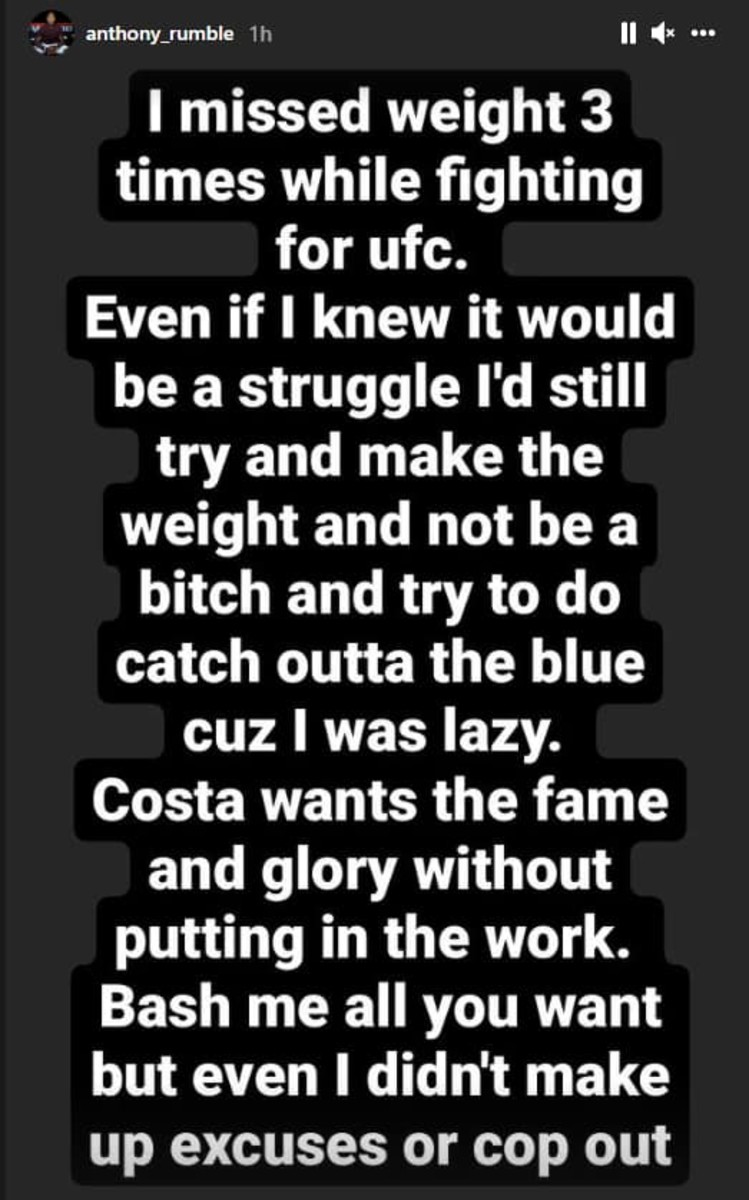 Two-time UFC light heavyweight title challenger Anthony Johnson (23-6) is among those annoyed by how Costa has handled his professional responsibilities to make weight. Taking to his Instagram on Friday to slam the Brazilian for not putting a real effort towards delivering on what he promised. Calling the UFC middleweight a "b*tch" and feeling if he fights at light heavyweight, he needs to stay in that division permanently and avoid any future weight miss excuses.
"I missed weight three times while fighting for UFC. Even if I knew it would be a struggle, I'd still try and make the weight and not be a b*tch and try to do [catchweight] outta the blue cuz I was lazy. Costa wants the fame and glory without putting in the work. Bash me all you want, but even I didn't makeup excuses or cop-out," Johnson wrote. "If he fights 205, just stay there. That way there's no more excuses and nobody will see how lazy he is. Trust me, going up in weight is much better and makes life much easier."
Johnson has not fought in the cage since beating Jose Augusto Azevedo in his Bellator debut in May. He was originally set to face division champion Vadim Nemkov in the semifinals of the Bellator light heavyweight Grand Prix earlier this month. However, a mysterious illness knocked him out of the tournament bout.
UFC Vegas 41 takes place tomorrow afternoon (Oct. 23) inside Las Vegas' UFC APEX. The card kicks off at 1 pm ET on ESPN+, with the main card following at 4 pm ET.
Join the discussion on this topic...