WATCH: Donald Trump stops everything to greet Jorge Masvidal before UFC 264
Jul 10, 2021; Las Vegas, Nevada, USA; Former US President Donald Trump attends UFC 264 at T-Mobile Arena. Mandatory Credit: Gary A. Vasquez-USA TODAY Sports
Colby Covington needs to be worried if his spot as Donald Trump's favorite Ultimate Fighting Championship fighter is in peril.
Last week's UFC 264 pay-per-view was a star-studded affair. But no name on the guest list was bigger than that of former US President Donald Trump. The forty-fifth president has been an avid fan of mixed martial arts for nearly two decades and attended UFC 244 in November 2019, when he was still in his role as the most powerful politician in the world.
On that night, he watched eventual two-time welterweight title challenger Jorge Masvidal score a third-round technical knockout on fan-favorite Nate Diaz. It seems "Gamebred" made a new fan on that night, and the admiration continues to this day.
Is Jorge Masvidal Donald Trump's favorite fighter?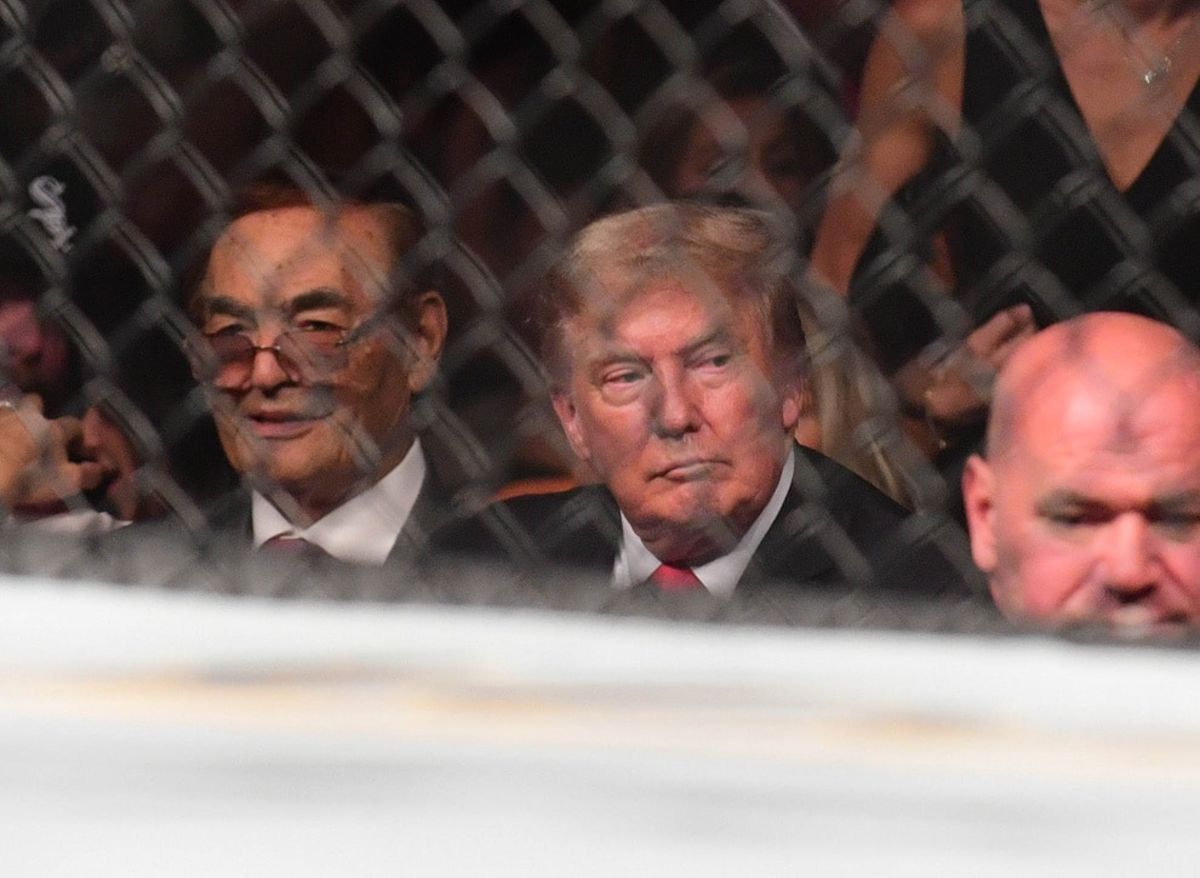 In a video posted by TMZ Sports, as Trump was escorted into the T-Mobile Arena by UFC President Dana White and his secret service detail, the New York native saw the Floridian and made a beeline to shake the welterweights hand. In the video, White can be heard saying, "I swear to God, he was just talking about you."
After a quick thug-hug and telling the 36-year-old "Bad Mother F*cker" titleholder he was a "great champion" he departed by saying of Masvidal, that the promotional boss should "give him a lot of money."
The friendship between Masvidal and the one-term president is no secret. The Miami native played the role of campaign surrogate for Trump during his 2020 run for re-election. Making several stops to stump for the Republican presidential nominee.
Trump's show of love for the UFC and its talent, and vice versa, has made headlines for the last five years. White vouched for Trump at the 2016 and 2020 Republican national conventions. When Covington was the interim welterweight champion in 2018, he was the first active UFC fighter to get a visit to the White House's Oval Office. "Chaos" also was the beneficiary of a direct call from Trump following his September 2020 win over Tyron Woodley.
Love him or hate him, a sitting and former president attending UFC events live have certainly elevated the sports position in the mainstream.